Welcome to our website!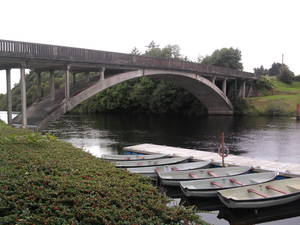 Our company offers luxury self drive live-aboard motor cruisers for hire on the inland waterways of Ireland.
Here, you can become a "Captain" without the worries. The peace and tranquil beauty of this island studded Lakeland paradise has an atmosphere to restore body and mind.
Treat yourself and your family to some quality time spent cruising the pleasant lakes and rivers of the Erne. Give yourself the vacation you deserve.
Apart from the magnificent green scenery and splendid boating facilities, you will find a range of attractions to enjoy throughout the season.
Our base at Carrybridge is situated midway between Upper and Lower Lough Erne, in sheltered river waters, so even the complete novice will not be hampered by weather conditions on arrival.
Our small ultra modern fleet of cruisers are serviced maintained and equipped to meticulous standards.
We are a family owned and operated Company available to our clients all day every day during the cruising season, and with over 30 years of experience behind us, we confidently assure our customers of a 1st class personal service at all times.
The Erne Waterway
Approximately 89 Kilometres in length. (Excluding the Shannon Erne link)
Approximately 300 square miles of navigable water.
154 unspoilt wooded green Islands.
Around 60 public mooring locations.
Only one lock. (on the Erne Navigation)
No overnight mooring fees. (on the public moorings)
The most user friendly system of navigation markers in Europe.
A new and more beautiful vista around every corner.
No timetables, no tide tables, no clocks.
Mother Nature at its very finest.
A fisherman's paradise.
An area of outstanding natural beauty.
We also offer a wide range of maintenance services to private boat owners who are based on the Erne waterway.